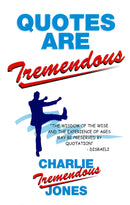 Description
Whether you are a general inspiring your troops, a teacher educating a student, a father or mother lecturing your child, a salesperson making a point, a preacher moving your congregation or a speaker motivating an audience, there is nothing that can empower you more than a Tremendous quote.
If you want to get their attention quickly and be remembered, begin with a Tremendous quote, end with a Tremendous quote, and season your remarks with Tremendous quotes.
I began reading quotes thirty-five years ago and now my name is mentioned around the world because of my repeating a quote I read in a book written over one hundred years ago and heard repeated by Mac McMillen forty years ago: "You are the same today as you will be in five years except for two things: the people you meet and the books you read."
A Tremendous quote never gets stale and it becomes more a part of you every time you quote it.
Read and reread a few biographies. This will give you a greater appreciation for the quote becuase you know the life it came from. Two of my favorites are Abraham Lincoln and Oswald Chambers. Everything I say is flavored by their wisdom.
Begin now to memorize a few Tremendous quotes. Repeat them to yourself aloud at every opportunity. Repeat them with feeling and enthusiasm. This will make a Tremendous difference in you, and your listeners will reward you with attentive minds, hungry hearts and warm smiles.
—From the Introduction
Payment & Security
Your payment information is processed securely. We do not store credit card details nor have access to your credit card information.