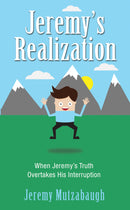 Description
"It's important to know that everything has a
purpose and our attitude toward what happens
to us in this life is essential."
—Jeremy Mutzabaugh
Life is an adventure meant to be taken and Jeremy is one to motivate you to do this. In his second book, he takes the reader with him on his journeys to different
locations. Here he experiences "interruptions" but they never detour him from the truth of God's word in his heart.
You'll be encouraged by his stories and a list of scriptures that helped him during the difficult situations he walked through. The truth of God's word will give you a peaceful and more meaningful life—just ask Jeremy!
Payment & Security
Your payment information is processed securely. We do not store credit card details nor have access to your credit card information.