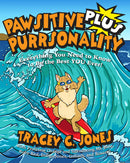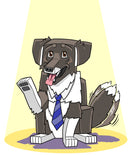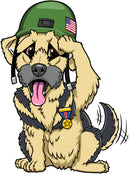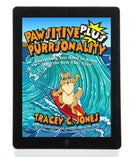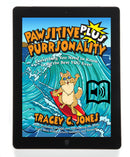 Description
 Ages 8 to 15
Your personality is going to be one of your biggest factors for your success and happiness in life! Learn how you can adapt your feelings, thoughts, and behaviors so you can be a great friend and a top-notch student. Your guide, Professor Orange, will introduce you to the Big Five Personality traits, the power of friendship, how to avoid stinkin' thinkin', why it's important to develop a
 

pawsitive purrsonality, and the power of being a real superstar!
Not since the stories of Beatrix Potter has there been such a creative blend of human behaviors within a cast of animal characters. Tracey uses her real-world rescues to inspire character development and life skills beneath a sweet, fuzzy surface. Teach your youngster the top five ways to win friends and influence people and enjoy life by developing their self-awareness and self-control.
"This is fantastic! I love the theme, I love the purpose, I love the vibrant colors, and I love the characters. It is packed with good stuff!! What an amazing accomplishment. This is the best Pups O Publishing creation yet!"  Michael Myers, Ed.D. Headmaster, Dayspring Christian Academy  
"I did not have children to bring but if I did I am sure they would have been delighted! This was perfect for the family. The dogs were a hit and I loved every moment." -Attendee of Utz & Pups Event  10/19/2018 
 "Hi Tracey.  I did get the awesome pillow and book!  I sat and read the book cover to cover and at times had tears and lots of laughing.  I did not know  your dogs were mostly from the south!!  I know several adults that need to read and practice what is in your book.  With your permission, I'd like to use the book in my Sunday School lessons--one trait a week.  I think they will relate and it is good advice and material to discuss with 1st and 2nd graders." TL, of Southern Comforts animal rescue in Texas
 "I finished reading Pawsitive Personality Plus. A furrtastic read that can benefit any age. Can't wait to share with my grand niece!! " Judy H. from North Carolina
Watch Bob Burg's Facebook Live show where he and Tracey discuss the principles behind Pawsitive Purrsonality Plus!
*Be sure to check out the main characters (here) as plush pillows for your future leader to hug while they read!* 
Payment & Security
Your payment information is processed securely. We do not store credit card details nor have access to your credit card information.