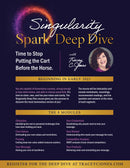 Description
If you don't see it before you see it, you won't see it.
"The main thing is to keep the main thing the main thing."
—Stephen Covey
 EIGHT MODULES - IN PERSON or ONLINE ZOOM INTERACTIVE
This course is all about coming to usefulness. We will drill down into what is your most worthy contribution? What do you know better than anyone else and what value does that create for your customer? What is the biggest lever I can pull today to move my personal or professional life forward?
Are you feeling exhausted—like a hamster on a wheel that keeps chasing after the next big thing because you're hearing from all the so-called experts that this is what you're supposed to be doing? Do you run here and there depending on what podcast you listen to or conference you attend? Or have you become such a jack or jane of all trades that your customer is unclear as to what it is exactly that you provide to reduce friction in their lives. Or maybe you've picked up and put down so many new ideas and projects that you're honestly not even sure which one you should be focusing on. If you are all thrust and no vector you are going to feel and be bone-weary and out of gas. Even my father suffered a bout of chronic fatigue syndrome mid-career; it can happen to even the strongest of us. This first chapter is all about getting so dialed in that you can
keep an intense focus and avoid those costly distractive detours.
Now is your time to gain total clarity. No more hesitating, debating, or procrastinating. It's time to step into your greatness and claim it. 
Payment & Security
Your payment information is processed securely. We do not store credit card details nor have access to your credit card information.