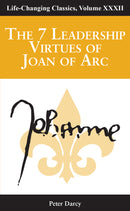 Description
This newest title of our Life-Changing Classics series hit #1 New Release in Christian Leadership on Amazon!
The 7 Leadership Virtues of Joan of Arc is a powerful catalog of the traits that made a mark on history. This small book tells the tale of her leadership virtues as a mystic and a warrior who obeyed the command of God to perform extraordinary deeds. Because of her virtue, she had a profound effect on both the earthly and heavenly kingdoms.
Among all the excellent qualities Joan of Arc exhibited in her short life, this book focuses on these seven: spirit (her spiritual formation and personal zeal); identity (her strong sense of self and personal calling); power (her excellent judgment in using coercive power to save her country); mobility (her purposeful action in executing her mission); realism (her ability to judge correctly what to do in complex situations); attraction (her immense powers of persuasion); and inspiration (the way in which she called the men and women of her day to heroism).
Although Joan of Arc lived six hundred years ago, she is a leader we should still learn from today.
Payment & Security
Your payment information is processed securely. We do not store credit card details nor have access to your credit card information.