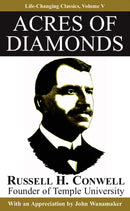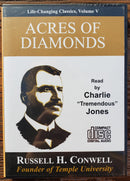 Description
Why was Russell Conwell, the founder of Temple University, referred to as the penniless millionaire? This, along with other questions, will be answered in this revolutionary book that contains Conwell's classic Acres of Diamonds message.
You will discover how this lawyer, minister, writer, educator, and diplomat who represented the City of Brotherly Love left a legacy that is still changing countless lives today.
His famous Acres of Diamonds message will also challenge you to seek opportunities to find true wealth right in your backyard without getting sidetracked by selfishness and greed. The same principles that transformed Russell Conwell into one of the most charitable millionaires of his time will also revolutionize your life as you read this timeless message in this book!
If you are ordering the PDF ebook, note that it is readable on any device that supports the PDF format. After checking out, you will receive an email with instructions for downloading your ebook. Adobe Reader software may be downloaded for free AT THIS SITE.
Payment & Security
Your payment information is processed securely. We do not store credit card details nor have access to your credit card information.