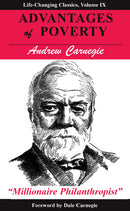 Description
 Advantages of Poverty is a dynamic book that encapsulates the life and wisdom of the millionaire philanthropist with brief biographical information along with portions of his essays.
You will discover the attitude of selfless giving that motivated this innovative businessman who helped various communities, charities, and organizations to achieve greater success during his day.
The wisdom of the steel tycoon who immigrated from Scotland will undoubtedly inspire you to recognize the advantages of an exceptional work ethic that overcomes poverty and lack.

"I have had to deal with great sums. Many millions of dollars have since passed through my hands. But the genuine satisfaction I had from that one dollar and twenty cents outweighed any subsequent pleasure in money-getting. It was the direct reward of honest, manual labor." ANDREW CARNEGIE
If you are ordering the PDF ebook or audiobook, note that it is readable on any device that supports the PDF or audio format. After checking out, you will receive an email with instructions for downloading your ebook or audio file. Adobe Reader software may be downloaded for free AT THIS SITE.
Payment & Security
Your payment information is processed securely. We do not store credit card details nor have access to your credit card information.