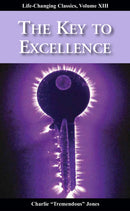 Description
In The Key to Excellence, Charlie "Tremendous" Jones share some of the greatest lessons he learned through many years of working with people. Filled with classic Charlie Jones wisdom coupled with humor, this easy-to-read book reflects his keys to excellence in Leadership, ministry, home and work.
"I wish I could take hours and hours on my favorite subject: the power of books. I heard this statement years ago and remind myself of it every day of my life now. I love to say it again today. Truth never gets old; it gets more rare, real, and fresh every day of your life. You are the same today you're going to be five years from now, except for two things: the people you meet and the books you read. Hang around thinkers; you will be a better thinker. Hang around achievers; you will be a better achiever. Hang around givers; you will be a better giver. Hang around a bunch of thumb-sucking, complaining, griping boneheads and you will be a better thumb-sucking, complaining, griping bonehead."
Charlie "Tremendous" Jones
If you are ordering the PDF ebook or audiobook, note that it is readable on any device that supports the PDF format or audiobook format. After checking out, you will receive an email with instructions for downloading your purchase. Adobe Reader software may be downloaded for free AT THIS SITE.
Payment & Security
Your payment information is processed securely. We do not store credit card details nor have access to your credit card information.