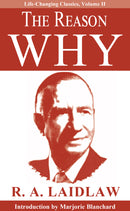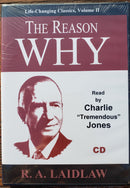 Description
Robert A. Laidlaw, a highly successful businessman, appeals to his staff to join him in the Christian life. A landmark of modern Christian literature, The Reason Why is just as essential and compelling today as it was ninety years ago.
From the Introduction by Marjorie Blanchard, co-founder of the Ken Blanchard Companies...
Nearly ten years ago I spent a snowy afternoon reading The Reason Why while Ken and friends were skiing. Perhaps like you, I had both noticed and envied the deep joy I saw in people (like my husband) who had taken the promise of forgiveness of sins and eternal salvation into their hearts by accepting Jesus Christ as their personal Lord and Savior. It was a mystery to me. How did a person like me come to this decision and take what sounded like a simple but huge step?
The Reason Why is thirty pages long. It very patiently goes through the intellectual questions you and I have about the existence of God, the Bible and the Word of God, ultimately, God's offer and plan for our salvation and eternal life with Him.
My beliefs, my faith, and my ego were all challenged in this little book as the case for God's wondrous and loving offer was built and rebuilt. At the end I was asked to leave my doubts behind, to rejoice in the invitation by God to take Jesus Christ into my heart as my personal savior, and to accept that offer period.
As I signed and dated this little book, I realized that faith is simply a choice—yes or no. Yes, for me, has made all the difference.
If you are ordering the PDF ebook, note that it is readable on any device that supports the PDF format. After checking out, you will receive an email with instructions for downloading your ebook. Adobe Reader software may be downloaded for free AT THIS SITE.
Payment & Security
Your payment information is processed securely. We do not store credit card details nor have access to your credit card information.