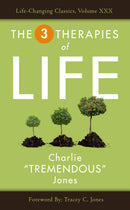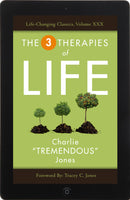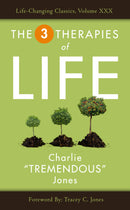 Description
Our 30th Life-Changing Classic is a salute to our founder!!
In The Three Therapies of Life, renowned speaker and bestselling author Charlie "Tremendous" Jones shares a wealth of knowledge from his decades of experience in business and life.

Whether you are a professional speaker desiring to improve your craft or simply someone seeking to enhance your chances for success in life, this book contains a treasure-trove of life lessons that will help you to communicate more effectively, laugh better, work better, and turn failures into stepping stones for success.

In addition to sharing his three therapies of life— people, music, and work—Mr. Tremendous also reveals valuable insights about his hallmark secrets related to laughter and books.
From the forward by Tracey C. Jones,
"This Life-Changing classic is pure "Tremendous;" real, down-to-earth, humorous, and spoken from the heart. In a world where it so often appears that everyone is having the best day of their life and has it all figured out, my father lets us know it's okay if you're not.
He is a practitioner of the highest order. He has changed so many lives because he has lived so many lives. His compassion for sharing others' heartaches while exhorting and giving them the means to overcome them are the ties that bind all of us together. His signature "tell it like it is" style, coupled with some timeless truths, make this little gem one that you'll turn to for years to come.

Let these three therapies minister to your life. They're free, they're universal, and they're guaranteed. These therapies will speak to you in your walk and help you process your own unique situation."
If you are ordering the PDF ebook or audiobook, note that it is readable on any device that supports the PDF format or audiobook format. After checking out, you will receive an email with instructions for downloading your purchase. Adobe Reader software may be downloaded for free AT THIS SITE.
Payment & Security
Your payment information is processed securely. We do not store credit card details nor have access to your credit card information.