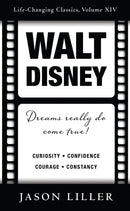 Description
"Somehow I can't believe that there are any heights that can't be scaled by a man who knows the secrets of making dreams come true. This special secret, it seems to me, can be summarized in four Cs. They are curiosity, confidence, courage, and constancy." Walt Disney
How did Walt Disney become one of the greatest successes in the history of motion pictures? By developing habits and qualities that any of us, in any walk of life, can emulate today. Learn some of Walt's secrets of success in these pages, apply them to your life right now, and build a wondrous future for yourself, your company, and your family!
If you are ordering the PDF ebook, note that it is readable on any device that supports the PDF format. After checking out, you will receive an email with instructions for downloading your ebook.

Adobe Reader software may be downloaded for free AT THIS SITE.
Payment & Security
Your payment information is processed securely. We do not store credit card details nor have access to your credit card information.