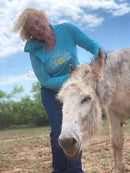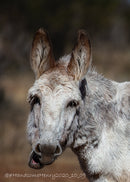 Description
Meet Handsome Henry and Discover How He Found Love and Hope with the Help of a Pink Bucket!
A beautiful picture book in both English and Spanish!

A frightened donkey with an unhappy past arrives at an isolated ranch late one fall evening. He soon, however, discovers love and hope delivered in a pink bucket by a lady who brings out the best in him. Experience the true story of how he came to be Handsome Henry!

Amor, Esperanza, y una Cubeta Rosada: La historia de Enrique el Hermoso

Un burro asustado con un pasado infeliz llega a un rancho aislado una tarde de otoño. Pronto, sin embargo, descubre el amor y la esperanza entregados en una cubeta rosada por una dama que saca lo mejor de él. ¡Experimenta la verdadera historia de cómo llegó a ser Enrique el Hermoso!
About the Author
M. J. McCluskey discovered her love of reading and story-telling at a very young age. She dreamed of writing children's books 'someday'. That dream remained a dream as she raised a family and pursued a career in finance and technology. When a corporate reorganization resulted in elimination of her position followed shortly thereafter by a broken wrist and lengthy recovery, she had time to dream again.
She resurrected a manuscript begun many years earlier and pursued making the dream a reality. Grace Comes at Christmas, the story of an abandoned kitten found hiding under a Christmas tree, was released in 2018. This was followed quickly by the sequel Grace, Peace, and Noelle in 2019 when Amazing Grace the kitten finds her forever home and friendship with a dog! A real police K9 inspired Captain Dargo: Born to Serve, published in 2020.
To purchase a paperback copy or Ebook in Kindle format visit Amazon HERE
Payment & Security
Your payment information is processed securely. We do not store credit card details nor have access to your credit card information.