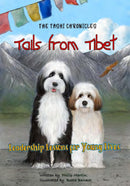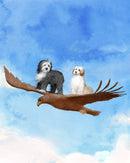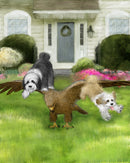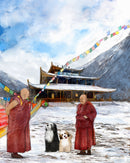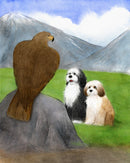 Description
A thrilling adventure that follows two Tibetan terriers as they encounter a variety of challenges and learn life lessons. Perfect for children ages 8 - 12. Lushly illustrated with 60+ illustrations!
Title:

Tails from Tibet: Leadership Lessons for Young Lives

Author:

Philip Martin

Illustrator:

Beata Banach

ISBN:

978-1-949033-96-0 (p)
978-1-949033-97-7 (h)
978-1-949033-98-4 (e)

Pages:

76
A Journey of a Lifetime.
Lessons for Life.
Tashi and Sashi are two Tibetan Terriers. Tashi is the younger of the two dogs and is curious about her ancestry. A golden eagle named Yeshe, flying overhead, happens to hear this and "magically" transports the two dogs to the beautiful land of Tibet, high in the Himalayan mountains. Here they embark on a journey to find the Lost Valley, which is believed to be the ancestral home of Tibetan Terriers.

During this amazing adventure they encounter a variety of challenges and learn life lessons along the way. So much of what a young pup needs to learn is similar to what a young boy or girl needs to learn to propel them in their development. The pups learn about Trust, Obedience, Perseverance, Bravery, Standing Up for What is Right, Curiosity, and much more.

Come join Tashi, Sashi, and Yeshe on this thrilling journey.
Enjoy this exclusive preview of Tails from Tibet . . .
The PDF ebook s readable on any device that supports the PDF format. After checking out, you will receive an email with instructions for downloading your ebook. Adobe Reader software may be downloaded for free AT THIS SITE.
About the Author: Philip Martin
Philip Martin is an Executive Coach and Management Consultant. He and his wife, Donna, live in Belmont Country Club in Ashburn, Virginia, with Tashi, their two year-old Tibetan Terrier. He has been an ardent student of Leadership for the past five decades and was exposed to many of these principles at an early age when he was in prep school at Battle Ground Academy and during his years in the Boy Scouts. These  served as the foundation for "Tails from Tibet". He and Donna are active in Christian Fellowship Church in Ashburn. Philip has a passion for American History, especially the period of the Civil War. His hobbies include politics, country music, travel, and spending quality time with Donna and Tashi. He can be reached at pmartin @ thetashichronicles . com
Exclusive Author Interview
About the Illustrator: Beata Banach
Beata Banach is a professional artist who lives in Lublin, Poland. Since childhood, she has been fascinated and intrigued by art. Beata specializes in watercolors, traditional oils, gouache, and ink. She continues to develop her skills and learn new styles and techniques. Beata strives for excellence and has exquisite attention to detail. She is very responsive and quite pleasant to work with. She received her Masters Degree in Fine Arts in 2018 from the Marie Curie-Sklodowska University in Poland where she majored in traditional easel painting. Beata can be reached on Instagram at @beata_paints and by email at pinkapple223 @ gmail . com. 
Payment & Security
Your payment information is processed securely. We do not store credit card details nor have access to your credit card information.