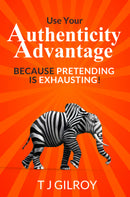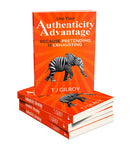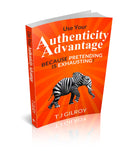 Description
Life's tough enough without pretending to be something that you are not. Yet we spend decades of our lives trying to conform to what others say we should be, and it's exhausting. It's time to stop pretending and step into our most authentic selves. Now is your time to stop trying to fit in and start standing out!

You were born with the attributes to be successful in a specific way to you, and only you. Authenticity Advantage holds the keys to helping you unpack the true you so you can live the life you've always wanted. This book gives perspective from six different aspects to find who you are. The results are meaningful, lasting relationships and creative, inspired work with less stress and effort.

Thomas J. Gilroy is an author, lecturer, and businessman. He and his wife Mary reside in Foxfire Village, NC. He grew up in Dale City, VA, and attended the University of Virginia before being commissioned as a Marine Officer. His military specialty was as an attack helicopter pilot, where he received the nickname "TJ."

TJ entered the business world after his Marine Corps career, eventually becoming an executive in the tactical equipment industry. He and Mary now own AuthenticityAdvantage.com, working with people to help them to find their Authenticity Advantage.

 Watch T.J.'s Interview with Tracey HERE
Payment & Security
Your payment information is processed securely. We do not store credit card details nor have access to your credit card information.