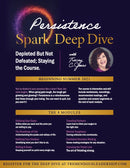 Description
Depleted but not Defeated:
The Art of Persistence
You can throw in the towel or you can use it to wipe the sweat off your face.
"You can want to quit, just don't do it!" Charlie "Tremendous" Jones
What price are you willing to pay in order to achieve your purpose?
 EIGHT MODULES - ONLINE ZOOM INTERACTIVE
APPLICATION EXERCISES
SIX BOOKS
RECORDED FOR REPLAYS
Tuesday/Thursday 7:30 pm to 8:30 pm EST 
PERSISTENCE: RECALIBRATE OUR EFFORT
God can't work until you do.
"By perseverance the snail reached the ark." —Charles Spurgeon
Are you feeling defeated—like no matter how hard you try you just can't seem to get any traction? Do you feel more and more like you should quit and have forgotten why you even started in the first place? Do you lay awake at night wondering, "Should I stay or should I go?" Are your habits turning out to be superficial promises lacking any real grounding when the going gets tough? Real behavior change flows out of identity change. This chapter is all about dialing in your vision so fiercely that no matter how much or how many times you want to quit….you never will.
Payment & Security
Your payment information is processed securely. We do not store credit card details nor have access to your credit card information.