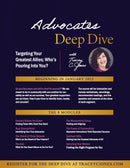 Description
Targeting Your Greatest Allies:
The Power of Advocates

Do you feel alone and left to fend for yourself?
We are meant to be in community with one another for our safety as well as our success!

Your greatest supporters are out there. Now is your time to identify them.

 EIGHT MODULES - ONLINE ZOOM INTERACTIVE
APPLICATION EXERCISES
TWO BOOKS
GUEST SPEAKERS
RECORDED FOR REPLAYS
Tuesday/Thursday 7:30 pm to 8:30 pm EST 
ADVOCATES: RECALIBRATE YOUR TRIBE
"Be extremely distrustful of your intellect and your own ideas of perfection." —François Fénelon
Do you feel alone and isolated—like no one has your back? Do you look around and hear others speaking about their mentors and partners and feel envious of their connections? Is your pride secretly preventing you from asking for or accepting help when you need it the most? The cold hard truth is that a lone sheep is a dead sheep. This chapter is all about how to build a robust support network so you are never alone. A cord of three strands is not easily broken; the same goes for the human spirit
Payment & Security
Your payment information is processed securely. We do not store credit card details nor have access to your credit card information.