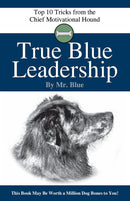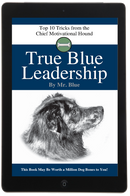 Description
DOG TEACHES MAN NEW TRICKS!
Everyone knows that dogs have it all figured out, so why not learn to lead from man's best friend? The granddog of Charlie "Tremendous" Jones, Mr. Blue learned at the feet of the masters, gathering a great storehouse of wisdom from legendary speakers and authors, all of which he shares in True Blue Leadership: Top 10 Tricks From the Chief Motivational Hound.
We've spent years trying to teach dogs our way of doing things. Now sit back and enjoy this insightful and fresh leadership perspective from the canine mind, where you'll discover important concepts such as...


Work like a dog

Let the tail wag the dog

Herding isn't leading

Dealing with the vacuum cleaners in your life

Don't bite the hand that feeds you

Give that dog a bone

Old dogs must learn new tricks

Man's best friends are dog-eared

You don't have to have a pedigree to be best in show
Pick up a copy of True Blue Leadership and let Mr. Blue share his tail-wagging wisdom with you today!
Please note, if you order a PDF ebook or audiobook, it is readable on any device that supports the PDF format or audiobook format. After checking out, you will receive an email with instructions for downloading your purchase.

Adobe Reader software may be downloaded for free at this site.

Don't miss Blue's Bundle, a collection of all of the books that Mr. Blue recommends in True Blue Leadership. CLICK HERE!
Click Here to read what AnimalRadio.com has to say about True Blue Leadership!
Payment & Security
Your payment information is processed securely. We do not store credit card details nor have access to your credit card information.