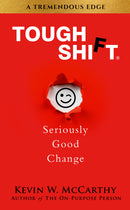 Description
The Newest Release in the Tremendous EDGE series deals with turning life's blows into triumphs!
The #1 Amazon New Release BEST SELLER!
The Second in the Premiere Tremendous EDGE Series!
A TOUGH SHIFT Event is the catalyst for a life transition. Like seasons in a year, they're inescapable yet essential to growth. The winds of change constantly swirl about us. Some can take years to develop. Others happen in an instant
Like ocean waves hitting a sandy beach, TOUGH SHIFTS overlap throughout our lives. Sometimes the "sea" is calm. Other times storm clouds gather the water becomes choppy, and you can see a storm brewing in the distance with hurricane-force winds. You'll notice the warning signs—the growing push and pull of the tide, the churn of change.
When this happens, you'll know you're in for a TOUGH SHIFT Event. A TOUGH SHIFT Event is a particularly difficult life transition. If you aren't directly facing one of these disruptive events right now, then you most likely have friends, family, and colleagues who are. And that affects you.
Payment & Security
Your payment information is processed securely. We do not store credit card details nor have access to your credit card information.