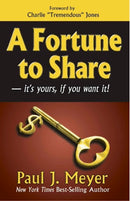 Description
The principles in this book are a lifetime collection of how Paul J. Meyer experienced failure, trial and error, the School of Hard Knocks, making a fortune, and ultimately being able to give over 60 million dollars to charity in the last couple of decades. This is not a book written by academic theorists, but it is a book that it based on real experiences actually lived out by Paul J. Meyer.
Please note, this is a digital copy. You will be downloading a PDF, Epub, mobi or audio format that is readable on any device that supports the chosen format. After checking out, you will receive an email with instructions for downloading your ebook or audiobook.
Adobe Reader software may be downloaded for free at this site.
Payment & Security
Your payment information is processed securely. We do not store credit card details nor have access to your credit card information.