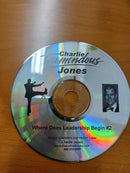 Description
Mr. Jones teaches about leadership and where it begins. He speaks about the 7 laws of leadership that you either harness and use or you don't. He talks about how 3 positivities can help you succeed, no matter what you do. Charlie helps you feel confident as you grow in these techniques, sharing his own personal life stories to demonstrate. Don't waste any time, let your leadership begin!
Please note the MP3 will be sent in a digital format. 
Payment & Security
Your payment information is processed securely. We do not store credit card details nor have access to your credit card information.