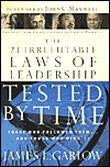 Description
Leaders change the world. They touch hearts. They inspire and invigorate; they sway history
Are you a leader?
You can be. More than one million copies of John C. Maxwell's The 21 Irrefutable Laws of Leadership have been sold, empowering men and women in their leadership skills. In The 21 Irrefutable Laws Of Leadership Tested by Time, Jim Garlow takes a look at how ordinary people across time have used the 21 laws to become the most powerful, respected and influential leaders in our world's history.
You'll learn how individuals like Christopher Columbus, Dr. Martin Luther King, Jr., and St. Francis of Assisi put the 21 laws to work before they were ever written in a book. You'll also learn from those who failed to use sound principles and squandered their positions of power. This book will show you how to become a cutting-edge leader, full of godly authority and integrity.
Payment & Security
Your payment information is processed securely. We do not store credit card details nor have access to your credit card information.