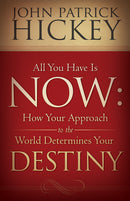 Description
TAKE ACTION!
Why do achievers charge ahead of the pack? What separates them from the well-meaning multitudes who start strong but never accomplish their dreams and goals?
It's ACTION!
Action is the key ingredient that makes everything happen. In All You Have Is Now: How Your Approach to the World Determines Your Destiny, John Patrick Hickey helps you set clear, decisive goals and then take the needed steps to achieve them. It's the "how-and-why" book for anyone who wants to finally achieve those personal, family, and business goals that always seem just out of reach.
Nothing happens without the key ingredient of action. So take the first step in accomplishing your dreams; pick up a copy of All You Have Is Now and chart a course for achievement that will take you to heights never before imagined!
Please note that the PDF ebook is readable on any device that supports the PDF format. After checking out, you will receive an email with instructions for downloading your ebook.
Adobe Reader software may be downloaded for free at this site.
Payment & Security
Your payment information is processed securely. We do not store credit card details nor have access to your credit card information.