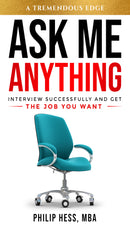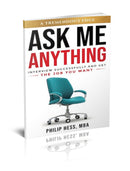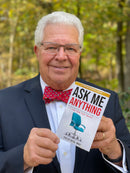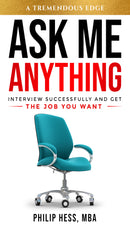 Description
The Newest Release in the Tremendous EDGE series will have you saying,
"Ask Me Anything!" 
The #1 Amazon New Release BEST SELLER!
The Second in the Premiere Tremendous EDGE Series!

The person sitting across from you has limited knowledge of your identity and capabilities. Yet, here you are, about to engage in a crucial interaction that could change the trajectory of your entire life. And since you never get a second chance to make a first impression, the best version of you must show up for this and every interview.
Phil Hess shows you how to achieve this lofty goal every time you sit across from a prospective employer, promoter, or selection committee. Phil has six decades of experience in watching, critiquing, and coaching the interview process. He knows precisely what will seal the deal and what causes employers to non-select. In this brief read, you'll find a toolbox filled with actionable steps so you can prepare, practice, and perform the perfect showcase of your personality and talents. Ninety percent of success in any endeavor is in the preparation, and interviewing is no exception. So, take some time to read this gem, and do what it tells you to do. Then watch the results hit your inbox or mailbox.
No matter what professional stage you are in, Ask Me Anything find yourself in, these strategies are tried and true. There's no secret to getting hired; there is only science. And Phil's tremendous track record of helping others get that job speaks to his expertise. So put his years of knowledge and experience to work in your job search. You'll be able to confidently state, "Ask Me Anything!" And congratulations in advance for knocking their socks off during the interview and getting that offer. Well done!
Dr. Tracey C. Jones President, Tremendous Leadership 
Payment & Security
Your payment information is processed securely. We do not store credit card details nor have access to your credit card information.