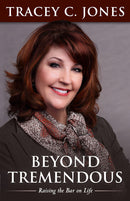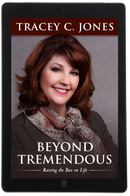 Description
The status quo has got to go!
If you're ready to throw off the shackles of the ordinary and ascend to the next level of success, Beyond Tremendous: Raising the Bar on Life is your guide from someone who has been there, done it, and come back to show you the way.
In these pages Tracey shares hard-won insights in short, easy-to-read lessons such as:
Does Your Rut Runneth Over?

Bringing Out the Action Hero in You

Are You Slacktose Intolerant?

It Doesn't Have to Be Hell to Sell

Work Ethic or Wish Ethic?

Alien Activity Discovered in Corporate America
Tracey C. Jones brings her signature wit, intelligence, and pull-no-punches style to every word in a book that's as much fun to read as it is essential to learn and apply. Read Beyond Tremendous and start raising the bar on your own life today!
Please note, if you order the ebook it comes in a PDF ebook that is readable on any device that supports the PDF format. After checking out, you will receive an email with instructions for downloading your ebook.

Adobe Reader software may be downloaded for free at this site.
Click here to read a sample chapter
Hear Here! Listen to Tracey read from Beyond Tremendous 
Tracey C. Jones is a veteran of the US Air Force and a number of aerospace and high-tech industries. A popular author and in-demand speaker, Tracey lives in Central Pennsylvania with her beautiful family of dogs and cats.
Payment & Security
Your payment information is processed securely. We do not store credit card details nor have access to your credit card information.