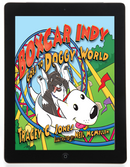 Description
Can Boxcar Indy make it to Doggy World before summer ends?
Boxcar Indy wants to take his family to Doggy World!
But a trip to Doggy World costs a lot of money. Will Boxcar Indy get the $1,000.00 he needs before the summer is over?
Boxcar Indy Goes to Doggy World teaches financial literacy concepts in a fun and simple story that all kids will enjoy!
*NOTE* Digital orders will receive a link to a zipped file including a PDF, Kindle and ePub version of the book. Once downloaded, extract all files and choose the one that is compatible with your e-reader. Enjoy!
Payment & Security
Your payment information is processed securely. We do not store credit card details nor have access to your credit card information.