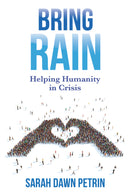 Description
GET YOUR AUTOGRAPHED AUTHOR COPY!
In times of crisis, the world seems fragile and out of control.

How do we keep it all together? Turns out you don't need to be a saint or a superhero to help your fellow humans. You can be your ordinary self and still do extraordinary things. The simple actions you take today can mend and heal a broken world. And right along with it, maybe even your own disillusioned heart.

Take it from Sarah Petrin, a girl from Maine who has been trying to fix broken people and places since she was 15 years old. Through her life's work, she has found that no matter our circumstances, our humanity is the glue that holds us together. In Bring Rain, Sarah invites readers on a journey through 20 countries over 20 years of humanitarian service and shares stories of the extraordinary people who taught her the rich rewards of helping others.

In this book, Sarah offers us a front-row seat to some incredible action moments from her own life, then invites us to venture out into our own neighborhoods with fresh energy to change and be changed by the people in our world. We can create a better future for ourselves and others by writing a better ending to today's story.

Payment & Security
Your payment information is processed securely. We do not store credit card details nor have access to your credit card information.