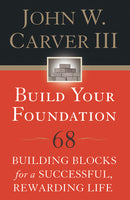 Description
A successful life needs a strong foundation! 
John Carver has helped thousands of people lead happier, more successful lives. Now, in Build Your Foundation, John offers 68 short, easy-to-read ways to ensure a rock-solid, storm-proof life.
Maintain a sense of urgency

Leverage your past experiences

Cope with old fears and phobias

Plan ahead for unforeseen troubles

Persevere through difficulty and pain 
Whether you're just beginning to lay your foundation or you've already built your life but need to shore up some weak spots, John Carver's Build Your Foundation will help you fortify yourself for a lifetime of success and significance! 
John Carver believes in the potential in every human being. He helps show thousands of people every week what it takes to overcome difficulties and obstructions in order to go from mediocrity to excellence. His teachings are ancient as well as new. His organization, The Carver Group, opens minds to their potential and helps people achieve their goals and dreams. In today's economy, America needs the words and experience of John Carver!
Payment & Security
Your payment information is processed securely. We do not store credit card details nor have access to your credit card information.