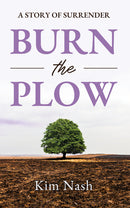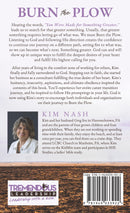 Description
A story of one woman's experience with "letting go and letting God" as she surrenders herself to God's wishes and lives a new life in faith and love.
| | |
| --- | --- |
| Title: | Burn the Plow: A Story of Surrender |
| Author: | Kim Nash |
| ISBN: | 978-1-949033-92-2 |
| Pages: | 170 |
God can and will show up in unique ways . . .
Hearing the words, "You Were Made for Something Greater," leads us to search for that greater something. Usually, that greater something requires letting go of what was. We must Burn the Plow. Listening to God and following His direction creates the confidence to continue our journey on a different path, setting fire to what was, so we can become what's next. Something greater. God can and will show up in unique ways to fulfill the deepest desires of your heart and fulfill His highest calling for you.
After years of living in the comfort zone of working for others, Kim finally and fully surrendered to God. Stepping out in faith, she started her business as a consultant fulfilling the true desire of her heart. Kim's hesitancy, insecurity, aspirations, and ultimate obedience inspired the contents of this book. You'll experience her entire career transition journey, and be inspired to follow His promptings in your life. God is now using Kim's story to encourage both individuals and organizations on their journey to Burn the Plow.
Enjoy this exclusive preview of Burn the Plow
You are purchasing a PDF ebook, and it is readable on any device that supports the PDF format. After checking out, you will receive an email with instructions for downloading your ebook. Adobe Reader software may be downloaded for free AT THIS SITE.
You can purchase a paperback copy from Amazon HERE
About the Author: Kim Nash
Kim and her husband Greg live in Hummelstown, PA and are the parents of four grown children and four grandchildren. When they are not working or spending time with their family, they enjoy the beach, and at least once per year, you can find them on a cruise ship. They attend LCBC Church in Manheim, PA, where Kim serves on the KidMin team and participates in SHE Studies, a ladies' bible study.
Exclusive Author Interview
Payment & Security
Your payment information is processed securely. We do not store credit card details nor have access to your credit card information.