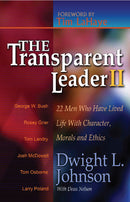 Description
In The Transparent Leader II, businessman Dwight Johnson invites you to glean wisdom from 22 prominent men who have lived life with character, morals, and ethics. 
Contributors include: 
George W. Bush
Rosey Grier
Tom Landry
Josh McDowell
Tom Osborne
Tim LaHaye
Larry Poland
Gary Cuozzo
Ron Walters
Peter Ochs
Rich Boyer
Jim Mather
Neal Jeffrey
Carey Casey
Kevin Jenkins
Art Shingler
David R. Kerr
Bill Kennedy
Jim Groen
Tim Philibosian
Bill White
Dwight L. Johnson
Payment & Security
Your payment information is processed securely. We do not store credit card details nor have access to your credit card information.