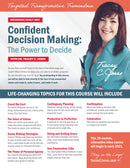 Description
Do you find yourself frozen in the face of decisions large and small?
What if there are steps you can take to be better prepared for any decision you have to face?
By participating in the 10-week, interactive video zoom Confident Decision-Making course, you will be able to look directly in the face of any unexpected choice and make it, make it right, and make it work.
The Confident Decision Making Course will begin in January 2021 and be hosted by Dr. Tracey C. Jones.
Topics include:
Count the Cost: The worst thing you can do is "no" thing. Indecisiveness has a steep price to pay. Don't go there.
The Value of Values: When you dial in your values, you make decisions congruent with them. This leads to peace and confidence.
The Power of Personal Agency: You control everything you allow into your space.  Stop pleasing others and reclaim your power to decide.
Sensemaking Strategies: Gen Patton said that any decision is easy to make once you have all the facts. Learn ways to get all the info you need to make an informed decision.
Contingency Planning: Whatever can go wrong, will go wrong. How to plan for the worst and still expect the best!
Production to Perfection: A decision is not one and done. It is constantly being reworked and reviewed every single day. 
Giving and Getting Grace: You will make mistakes and that's okay. Learn how forgiveness builds confidence.
Your Tremendous Tribe: You need great critical thinkers in your tribe. Learn how to find and assemble people smarter than you.
Confirmation: When you make a decision with confidence, people and resources begin coming into your world. 
 Celebration: Take time to celebrate any decision, no matter how small!! 
Payment & Security
Your payment information is processed securely. We do not store credit card details nor have access to your credit card information.