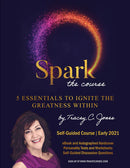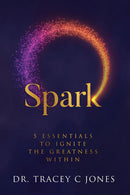 Description
Seven Module Course

Module 1 - The Roadmap introduction and overview.
Module 2 - Singularity: Laser Focus on that ONE THING.
Module 3 - Persistence: You can want to quit, just don't do it!
Module 4 - Advocates: Finding those who want your success more than even you!
Module 5 - Resources: Tools for your trade so you can execute your plans.
Module 6 - Knowledge: The transformational power of people and books
Module 7 - Putting it all together!
Self-Guided : Unlock your greatness at your own pace! This self-guided course contains prerecorded modules complete with worksheets and downloads for your learning experience. You are ready to purchase your eBook and you want in! Purchase to receive an immediate download of SPARK: 5 Essentials to Ignite the Greatness Within eBook, AND and audiobook download!
What is the purpose of SPARK? Not to mold you but UNFOLD you. Work with Dr. Tracey Jones to determine and hone in on your Singularity, Persistence, Advocates, Resources, and Knowledge.
You won't let anything hold you back anymore!
How can you take the obstacles in your life and turn them into opportunities?
There are five essentials that every successful and resilient person on this planet uses to unlock their inner greatness. The tremendous news is these steps work for every single one of us in every individual situation one hundred percent of the time!

SPARK gives you the blueprint to unfolding and perfecting the highest version of yourself.
It will provide you with the understanding and tools to help you continue refining and redefining your future as your world changes. It's time to claim your greatness. No more waiting; no more procrastinating; and no more doubtful debating. The world needs you to deliver on all that you can. Once you open this book and begin this process, you will never be the same!
________________________________________________________________________________
Payment & Security
Your payment information is processed securely. We do not store credit card details nor have access to your credit card information.