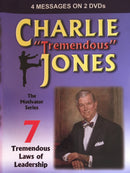 Description
In this incredible 2 DVD pack containing 4 brilliant messages from motivator extraordinaire, Charlie "Tremendous" Jones, he shares his teaching on the Seven Laws of Leadership. Only practice will prove them, and only the people who are exercising these basic laws are moving ahead and growing in leadership—so be learning them!

1: Learning to Get Excited About Your Work
2: Use or Lose
3: Production to Perfection
4: Give to Get
5: Exposure to Experience
6: Flexible Planning
7: Motivated to Motivating

Charlie "T" is truly one of a kind. He entered the insurance business at age 22, and at 23 he was awarded his agency's Most Valuable Associate Award. Ten years later, he received his company's highest management award for recruiting, manpower, development, and business management. At 39, he founded Life Management Services to share his experience through seminars and consulting services. 
Thousands of audiences on five continents have experienced nonstop laughter as Mr. "T" shares his ideas about life's most challenging situations at work or at home. He's the author or editor of nine books, including "Life is Tremendous" with more than 200,000 copies in print in 12 languages.
Charlie's enormous list of honors includes guest lecturer at 15 universities and business schools, member of the National Speakers Association Hall of Fame (and feted as one of the top 20 speakers of the 20th century), winner of the coveted Cavett Award, and member of the prestigious Speakers Roundtable. He has served on the boards or advisory councils of many business associations, government agencies, and civic organizations. Among his dozens of community and professional awards are five honorary doctoral degrees and four libraries named in his honor.
Payment & Security
Your payment information is processed securely. We do not store credit card details nor have access to your credit card information.