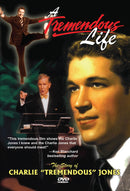 Description
Beloved author, speaker, and entrepreneur Charlie "Tremendous" Jones rose from the squalid poverty of the Great Depression to become one of the top twenty speakers of the 20th century. Now, for the first time ever, this DVD brings together family, friends, and colleagues, along with unprecedented access to archival photos and rare historical footage, to bring you an intimate look at the tremendous man whose legacy of faith and leadership has impacted the lives of countless thousands around the world!
BONUS FEATURE
A tour of Charlie Jones's estate hosted by bestselling author Greg Reid.
Payment & Security
Your payment information is processed securely. We do not store credit card details nor have access to your credit card information.