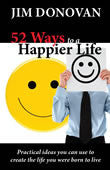 Description
Please note that this is a PDF ebook that is readable on any device that supports the PDF format. After checking out, you will receive an email with instructions for downloading your ebook.
Adobe Reader software may be downloaded for free at this site.

In 52 Ways to a Happier Life, Jim Donovan shares the principles that changed his course from living in misery and despair to a life that is beyond his wildest expectations. These same simple principles will help you, too, to live the life you were born to live; the kind of life that you will look forward to each day; a life that will amaze you with its magnificence.
We all have the capacity for greatness. All we need to do is take responsibility for our lives, learn to dream again, set worthwhile goals, have faith, and take action.
Within the pages of this book are practical ideas that will help you to take the actions that you need to create the life you were born to live. These are the principles used by virtually all successful people. Reading this book for ten or fifteen minutes each day will help you remain in a positive state of mind as you embark upon your journey toward a successful and happier life!
Payment & Security
Your payment information is processed securely. We do not store credit card details nor have access to your credit card information.