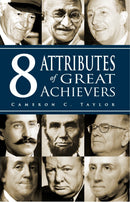 Description
Please note that this is a PDF ebook that is readable on any device that supports the PDF format. After checking out, you will receive an email with instructions for downloading your ebook.
Adobe Reader software may be downloaded for free at this site.
8 Attributes of Great Achievers is filled with inspiring stories from the lives of great achievers past and present including Christopher Columbus, George Washington, Abraham Lincoln, The Wright Brothers, Gandhi, Winston Churchill, Walt Disney, Warren Buffett, and others.

From this book, you will discover:


How Winston Churchill's optimism enabled England to withstand the attack of Hitler and eventually win the war.
How Walt Disney used the power of goals to create Snow White and the Seven Dwarfs, Disneyland, etc. and make his dreams come true.
Why George Washington carried a bloody sash with him throughout his life.
Powerful experiences from the Wright Brothers on the need to take the initiative.
Stories on honesty from billionaire Jon Huntsman that illustrate that nice guys really can and do finish first in life.
15 principles to build strong, uplifting relationships.
Principles every parent must know to raise productive, self-sufficient children and grandchildren.
How a World War II concentration camp prisoner was able to remain strong, happy and peaceful, even in the worst of environments.
How Gandhi's "experiment with truth" enabled him to go from a shy boy and an average man to the leader of 500 million people who called him "The Great Soul."
How top CEOs used the principle of abundance to increase productivity and profits.
Inspiring stories on persistence and overcoming failures from the lives of numerous great achievers.
Payment & Security
Your payment information is processed securely. We do not store credit card details nor have access to your credit card information.