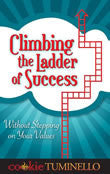 Description
Please note that this is a PDF ebook that is readable on any device that supports the PDF format. After checking out, you will receive an email with instructions for downloading your ebook.

Adobe Reader software may be downloaded for free AT THIS SITE.
GUESS WHAT? CLIMBING THE LADDER OF SUCCESS JUST GOT EASIER!
The marketplace is changing and so are the dynamics of what it means to be a business leader in today's world. Don't hang back, don't accept the status quo, don't give away your power, and don't try to fit into another's expectation of what you should do.
It's time to step up, claim your place on the ladder of success, say what you mean and mean what you say, so that you are heard and taken seriously. In this book you will learn how to implement the right strategies, tools, and mindset to become more confident, profitable, and create more realistic expectations while eliminating the second-guessing and fear that can keep you stuck.
And that, ladies and gentlemen, equals SUCCESS!
Payment & Security
Your payment information is processed securely. We do not store credit card details nor have access to your credit card information.