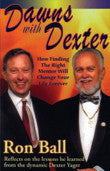 Description
Please note that this is a PDF ebook that is readable on any device that supports the PDF format. After checking out, you will receive an email with instructions for downloading your ebook.
Adobe Reader software may be downloaded for free at this site.
Ron Ball first met Dexter Yager in 1985 while he was finishing five years as a special assistant to Dr. Charles Stanley at the First Baptist Church of Atlanta, Georgia. Dexter Yager's influence and reach was literally worldwide and he was enormously successful in the world of multi-level marketing. This is Ron Ball's story of how this successful world leader decided to mentor him, sharing many of the success principles that transformed Dexter Yager from a struggling car salesman to a multi-millionaire businessman.
Payment & Security
Your payment information is processed securely. We do not store credit card details nor have access to your credit card information.