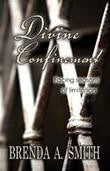 Description
Please note that this is a PDF ebook that is readable on any device that supports the PDF format. After checking out, you will receive an email with instructions for downloading your ebook.
Adobe Reader software may be downloaded for free at this site.
Never lose the good of a bad situation!
Are you stuck? Confined by your circumstances? Is this a season of limitation for you?
There is good news — you will get through it. There is better news — God is with you all the way. Here is the best news — a loving God has designed this season just for you. This is your Divine Confinement.
The Five Footholds for facing seasons of limitation will help you not only survive, but thrive in these experiences. The principles of Divine Confinement will keep your feet steady when hitting life's potholes. You will find hope and a plan for success.
Payment & Security
Your payment information is processed securely. We do not store credit card details nor have access to your credit card information.