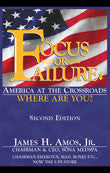 Description
Please note that this is a PDF ebook that is readable on any device that supports the PDF format. After checking out, you will receive an email with instructions for downloading your ebook.
Adobe Reader software may be downloaded for free at this site.
James H. Amos Jr. first wrote Focus or Failure: America at the Crossroads — Where Are You? as an attempt to articulate what he thought was happening in America and what some of the possible courses of action you and I might take to address these issues.
James H. Amos Jr. and Snow Phipps Group, a New York-based private equity firm, acquired New York-based Tasti D-Lite on February 7, 2007, and Mr. Amos serves as Chairman and Chief Executive Officer.
James H. Amos Jr. became Chairman of Sona MedSpa in May 2004 after the purchase of the majority of the ownership in Sona by Mr. Amos and institutional investors.
Mr. Amos is a renowned franchise executive who is chairman emeritus of Mail Boxes Etc. (MBE), and past chairman of the International Franchise Association (IFA).
Under Mr. Amos' leadership as Chairman and CEO, MBE was the world's largest and fastest growing franchisor of retail Leadership, communication and postal service centers. Based in San Diego, the MBE Network comprised nearly 4,500 locations worldwide, with master licensing agreements in more than 80 countries around the world. In 2001, Amos was instrumental in orchestrating the sale of MBE to United Parcel Service who subsequently renamed the system, The UPS Store.
During his career, Mr. Amos has been a leader in the franchising industry. For eight years prior to joining MBE, he was the CEO of the Brice Group in Dallas. A former Marine Corps captain and veteran of two combat tours in Vietnam, Mr. Amos received 12 decorations, including the Purple Heart and Vietnamese Cross of Gallantry. He is the author of several books including the bestsellers The Memorial, Focus or Failure: America at the Crossroads, The Transparent Leader, Corporate Giants, Above and Beyond, You Can Do It, The Entrepreneurs' Creed, and Living An Uncommon Life. In addition, Penguin Press recently released his latest work, The Complete Idiot's Guide to Franchising.
A graduate of the University of Missouri, Amos was honored as the 1998 scholar-in-residence and in 2000 and 2003 with the Distinguished Alumni Award. Recognized in Marquis Who's Who in America, Who's Who in American Executives, Who's Who in Finance and Industry, Who's Who in American Authors, and The International Authors and Writers Who's Who.
Additionally, he has served on the boards of The National Veteran's Administration, The Marine Military Academy, The Marine Corps Heritage Foundation, Meineke Car Care Centers, Oreck Corporation, Ziebart International, WSI of Canada, The University of Missouri, The International Franchise Association, The HealthStore Foundation and Ken Blanchard's Faith Walk Leadership Foundation.
Payment & Security
Your payment information is processed securely. We do not store credit card details nor have access to your credit card information.