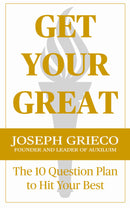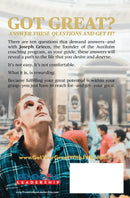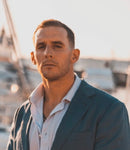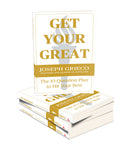 Description
GOT GREAT? ANSWER THESE QUESTIONS AND GET IT!
There are ten questions that demand answers—and with Joseph Grieco, the founder of the Auxiluim coaching program, as your guide, these answers will reveal a path to the life that you desire and deserve.
It's not easy. It's not comfortable.
What it is, is rewarding.
Because fulfilling your great potential is within your grasp—you just have to reach for—and get—your great.
Buy the EBOOK here now!
CONTENTS
Preface
How Much Potential is Inside of You?
What are You Doing to Ignite Your Potential?
Go Deep
Transformation through Reading
Free to Be
The Power of Balance
Are You Starving Your Wick?
The Light Found in Pain
Begin with the End in Mind
Living the Dream Takes Work
Nothing Works Unless You Work It
Are Your Actions Dependent Upon Others?
Are You Allowing Your Failures to Hold You Back?
What are the Strongest Agents Warring Against Your Progress?
How Badly Do You Want to Succeed?
What Do You Want Most in Life?
You Owe it to Yourself
Will You Be Everything You Are Meant to Be?
Life Lesson & Fact
ABOUT THE AUTHOR
Joseph William Grieco was born in southern New Jersey and is the second oldest of four boys. Since the first time he was able to wield a pen, he has been putting his thoughts on paper. In 2020, he established Auxiluim, offering coaching in life, fitness, and nutrition, and began the "Auxiluim Ignited Podcast." Joseph's passions for medicine and adventure, love and culture, are evident in all of his works. If there is one thing that he has learned from his almost three decades of life, it is that pain and hardship can be a portal to passion and progression. He is currently living in Naples Italy, serving his country in the Untied States Navy.
Got Great?
The newest release from Tremendous Leadership is exactly what you need to break out of the rut of mediocre living and achieve your fulfilling, tremendous life! 
Get Your Great: The 10 Question Plan to Hit Your Best is written by Joseph Grieco, founder of the Auxiluim coaching program. 
In this book, Joseph guides you through the ten challenging questions so you uncover your personal path to greatness. 
You were created to be tremendous, yet it's all too easy to become complacent during your day-to-day life, right?  You have a hundred decisions to make each day, a home to clean, groceries to buy, work to do, bills to pay, and appointments to attend… the list goes on. 
Each task you do and decision you make can help unleash your potential… or keep that potential buried inside you.  How can you ensure you're on the right path to achieve your greatest purpose and live the tremendous life you desire? 
You are a unique, tremendous person, and you'll discover so much about yourself while reading this book. You'll also reveal your individual path to the life that you desire – and deserve. 
Contact Tremendous Leadership for discounted bulk orders for your organization. 
💫 Get out of mediocrity and reach for your greatness today. 
Payment & Security
Your payment information is processed securely. We do not store credit card details nor have access to your credit card information.