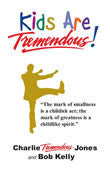 Description
Please note that this is a PDF ebook that is readable on any device that supports the PDF format. After checking out, you will receive an email with instructions for downloading your ebook.
Adobe Reader software may be downloaded for free at this site.

Internationally acclaimed motivational speaker and author Charlie "Tremendous" Jones and award-winning author Bob Kelly combine their talents to present this charming look at childhood by some of history's most famous personalities. Funny, poignant, illuminating -- each quotation casts a bright light on those sparkling diamonds we call kids. Sometimes demanding, always questioning -- kids are a constant source of joy to adults of all ages.
More than simply a collection of quotations, Kids Are Tremendous! includes some sound advice on how to turn your children, grandchildren, and other young people in your world into lifelong readers. There's even a simple contract form you can use to get them moving in the right direction.
The late Hodding Carter, journalist, and publisher, once wrote: "There are only two lasting bequests we can hope to give our children. One of these is roots; the other, wings." Give them both by instilling in them a love for reading.
Payment & Security
Your payment information is processed securely. We do not store credit card details nor have access to your credit card information.