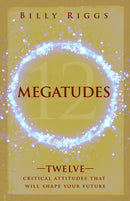 Description
Please note that this is a PDF ebook that is readable on any device that supports the PDF format. After checking out, you will receive an email with instructions for downloading your ebook.

Adobe Reader software may be downloaded for free AT THIS SITE.
SHAPE YOUR FUTURE
Life is attitude. The attitudes you bring (or don't bring) to your circumstances will affect your future more than your talent, looks, or intelligence. They will shape your destiny more than your plans, your friends, or your enemies. They are more critical than your genes or your upbringing. They will fashion your prospects more than luck or even hard work ever could. They color and influence everything you do and gradually create the circumstances—whether good or bad—under which you must live and labor. Indeed, they are so important that I call them Megatudes.
Every day your attitudes either sweeten or poison all that flows through you and from you. By harnessing the power of the twelve Megatudes revealed in this book you will improve your circumstances, your career, your income, your relationships, and your happiness. Miss out on a few, and you will sentence yourself to mediocrity. Neglect them all and you are doomed to failure. But when you consciously build all twelve of them into your thought processes and behaviors, your life will change direction and set you on a course for all of the good things that life has to offer!
Payment & Security
Your payment information is processed securely. We do not store credit card details nor have access to your credit card information.