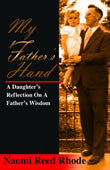 Description
Please note that this is a PDF ebook that is readable on any device that supports the PDF format. After checking out, you will receive an email with instructions for downloading your ebook.
Adobe Reader software may be downloaded for free at this site.



There is nothing like a father's wisdom. And there is nothing like a father's Love. In this heart-warming book, Naomi Reed Rhode takes you on a spiritual journey in which she shares the wisdom of her father, Virgil Asbury Reed. Based on notes from her dad's messages—to the congregations he served, to the Boy Scouts he trained, and to the "Come and See" adult Bible studies he taught—My Father's Hand: A Daughter's Reflection on a Father's Wisdom will help you to discover the keys to forgiveness, peace, faith, overcoming fear and worry, personal and spiritual growth, giving, and many other pertinent issues.
Although Naomi's dad died when she was only thirteen-years-old, Naomi recalls that, "My dad was a giant of a man! His life philosophies, his character, his genuine zest for life, his charisma, his speaking excellence, his love for family, his wisdom, his storytelling, and his faith in God were the foundational elements of my childhood."
Each chapter of My Father's Hand contains an excerpt from a speech by Virgil Reed followed by an inspirational commentary from Naomi Reed Rhode.
Payment & Security
Your payment information is processed securely. We do not store credit card details nor have access to your credit card information.