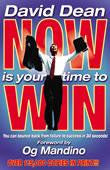 Description
Please note that this is a PDF ebook that is readable on any device that supports the PDF format. After checking out, you will receive an email with instructions for downloading your ebook.
Adobe Reader software may be downloaded for free at this site.

Foreword by Og Mandino
Are you winning to the degree you know you could be? Where are you now in relation to where you'd like to be? Have you experienced a setback that has left you wondering if you actually can become the winner you are meant to be? What can you possibly do in 30 seconds that can make that much difference in your life?
David Dean is President of David Dean and Associates, Inc., an insurance marketing company based in Tempe, Arizona. He is a 39 year veteran of direct sales. Early in his career, Dean worked his way from selling books door-to-door, 80 hours a week, to the position of Vice President of Sales for the Southwestern Company of Nashville, Tennessee, the oldest direct-sales company in America. While there, he had responsibility for twelve sales managers and 1,300 sales people. As a salesman, Dean made over 17,000 sales calls and has been in 10,000 plus closing situations. He has been the number one salesman in the nation, for total sales for the year, with two different national sales companies.
As a leader of sales people, David Dean has held over 3,000 interviews for direct sales candidates, and participated in the training of over 50,000 sales people. In addition, Dean has spent more than 25,000 hours one-on-one, coaching and directing salespeople and sales managers, utilizing the 7 Principles shared in Now is Your Time to Win, helping these individuals to analyze their performance, maximize their production, and strive for excellence.
Payment & Security
Your payment information is processed securely. We do not store credit card details nor have access to your credit card information.