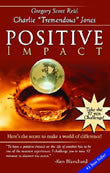 Description
Please note that this is a PDF ebook that is readable on any device that supports the PDF format. After checking out, you will receive an email with instructions for downloading your ebook.
Adobe Reader software may be downloaded for free at this site.

In the time it takes to commute on a short flight, read through the local paper, or enjoy your lunch break, we challenge you to invest these same 57 minutes by reading this book that is sure to leave a Positive Impact on your life. Powerful leadership strategies for creating alliances while earning respect. Fresh new business skills that make work fun while increasing profitability. Effortless communication techniques for uncovering a speaker's hidden message. This commonsense message is simple yet profound. It's guaranteed to leave a Positive Impact on your business and personal life
Payment & Security
Your payment information is processed securely. We do not store credit card details nor have access to your credit card information.