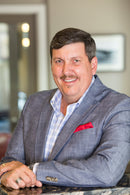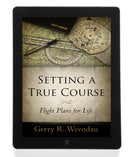 Description
Be open, stay calm, and remember who you've got behind the control stick!
Insurance professional, aviation enthusiast, business owner, and family man, Gerry Wevodau has framed his thirty years of adult learning into ten flight plans for life. He reminds us of the motivation of mentors, the power of perseverance, and that success isn't measured in terms of your level of income, but in terms of your level of service to others.
When you're teachable and available, life becomes one big sky full of God-given assignments of opportunities and joy. Reading his insights will bless you and
help you in Setting a True Course for your own flight plans for life.
Read all about how this aviation enthusiast and insurance professional weaves the analogy of having flight plans for life. We can set the course, but when you go "wheels up," there's a tremendous amount of experiences that can happen in the wild, blue yonder. 
Gerry teaches that the definition of a good landing is one you walk away from. A really good landing is one where they let you use the plane again. And when you're in "the soup," you've got to get above or below the clouds if you want to land on terra firma. His life experiences reflect these words and his humble attitude toward life.
Read Setting a True Course and learn how you can rise above the clouds in every flight plan for life!
Please note, when you order the ebook you will be downloading a PDF or an ePub format that is readable on any device that supports the chosen format. After checking out, you will receive an email with instructions for downloading your ebook. 
Payment & Security
Your payment information is processed securely. We do not store credit card details nor have access to your credit card information.