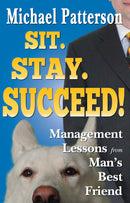 Description
Please note that this is a PDF ebook that is readable on any device that supports the PDF format. After checking out, you will receive an email with instructions for downloading your ebook.

Adobe Reader software may be downloaded for free AT THIS SITE.
Treat Your Employees Like... Dogs?!?!
(It's a better idea than you might think... especially if you want to succeed!)
Your company is challenged all the time to be the best. To be successful, your employees need to constantly meet—and frequently exceed—the expectations of customers, business partners, and everyone in between. And the best way to get the best from your employees is to treat them like dogs!
In Sit. Stay. Succeed!, Michael Patterson places into your hands his system for managing, training, coaching and motivating the members of an organization so that they will exceed expectations. It's a system straight from the "dog's" mouth. No bones about it!
If you are the "Top Dog," you'll be able to effectively turn "bones of contention" into "bones ofretention" as you strengthen employee morale and loyalty.
If you are a pack leader, you'll be able to get the maximum potential from each and every employee each and every time.
Even if you are merely the pup of the group, what you'll learn will help you to leap over obstacles and advance your way to the top.
Take a few tips from man's best friend (and Michael Patterson, too) and watch your organization excel in the 21st century.
CLICK HERE TO LISTEN TO MICHAEL PATTERSON ON TREMENDOUS LIFE RADIO!
Payment & Security
Your payment information is processed securely. We do not store credit card details nor have access to your credit card information.