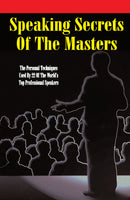 Description
Speaking Secrets of the Masters is the perfect, comprehensive resource for anyone who faces the responsibility of presenting information, thoughts, ideas, concepts to an audience.
Whether you are addressing a board of directors, an association meeting of thousands, a classroom or your own social club, the techniques these leading speakers share with you will be invaluable to your success.
Members of the Speakers Roundtable are veteran presenters who have known, worked and associated with such giants of the profession as Dale Carnegie, Norman Vincent Peale, and Earl Nightingale. Collectively, members have published more than fifty top selling books and over one hundred audio programs.
Contributors include:
Cavett Robert
Ken Blanchard
Charlie Plumb
Jim Newman
Herb True
Don Hutson
Daniel Burrus
Ty Boyd
Tony Alessandra
Jim Cathcart
Nido Qubein
Naomi Rhode
Charlie "Tremendous" Jones
Tom Winninger
Jim Tunney
Patricia Fripp
Art Holst
Danny Cox
Allan Hurst
Bill Gove
Brian Tracy
Ira Hayes
Payment & Security
Your payment information is processed securely. We do not store credit card details nor have access to your credit card information.