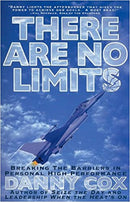 Description
If you're in a rut... if you wish you could break out... even if you've tried and failed before... Danny Cox can help you renew your sense of purpose, develop your spirit of adventure, and nurture your capacity for limitless growth.
Please note that this is a PDF ebook that is readable on any device that supports the PDF format. After checking out, you will receive an email with instructions for downloading your ebook.
Adobe Reader software may be downloaded for free at this site.



Payment & Security
Your payment information is processed securely. We do not store credit card details nor have access to your credit card information.