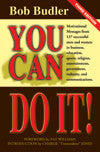 Description
Please note that this is a PDF ebook that is readable on any device that supports the PDF format. After checking out, you will receive an email with instructions for downloading your ebook.
Adobe Reader software may be downloaded for free at this site.


Foreword by Pat Williams
Introduction by Charlie "Tremendous" Jones
Motivational messages from successful men and women in Leadership, education, religion, entertainment, government, industry and communications provide a treasure of experience and philosophy that you can apply to your own life. 
Contributors include:
Steve Allen
James Amos
Wally Amos
Mary Kay Ash
Bonnie Blair
Ken Blanchard
Pat Boone
Barbara Bush
Bob Costas
Dick DeVos
Mike Ditka
Chris Evert
Gerald Ford
George Gallup
Bill Glass
Ron Glosser
John Haggai
Monty Hall
Paul Harvey
Bo Jackson
Hank Ketcham
Robert MacArthur
Tom Parker
Joe Paterno
Walter Payton
Charlie Plumb
Orville Redenbacher
Naomi Rhode
Roy Rogers
Don Rumsfeld
Robert Schuller
John Segal
William Sessions
Louis Sportelli
Dave Thomas
Brian Tracy
Jim Tunney
Reggie White
Roger Williams
Payment & Security
Your payment information is processed securely. We do not store credit card details nor have access to your credit card information.